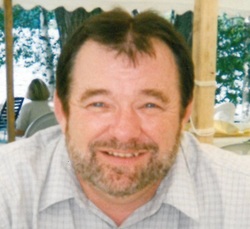 The IAM mourns the death of District 4 Directing Business Representative Joe Flanders.
Flanders died unexpectedly on Wednesday, April 16, 2014 at his home in Mechanic Falls, ME. He was 58 years old.
Flanders became an IAM member in December 1988 and was elected to serve as a Business Representative for District 4 in January 1999. He then became the Directing Business Representative in 2009.
He enjoyed hunting, fishing, camping, snowmobiling and four-wheeling. He was a Red Sox and Patriots fan. A big part of his childhood was spent with his uncle Richard racing at Oxford Plains Speedway.
Flanders loved spending time with his grandchildren. He is survived by his wife, three daughters, and seven grandchildren with another on the way.
"Joe was a true trade unionist dedicated to the IAM and bettering the lives of working families," said IAM Eastern Territory General Vice President Lynn D. Tucker, Jr. "He'll be greatly missed across the labor movement. Our thoughts and prayers are with his family during this difficult time."