A Labor Day Message from IP Tom Buffenbarger
 Thu. September 03, 2015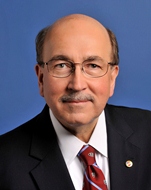 Sisters and Brothers:
On Labor Day, and every day, we celebrate the men and women who do the jobs that make our countries great. As IAM members, we can be especially proud.
Put simply, we make North America move. Our members are the backbone of the aerospace, manufacturing, transportation, shipbuilding, woodworking and electronics industries, as well as a crucial part of the federal sector. We're the best in the world at what we do, and we know how to come together to fight for what's right.
That's why as we prepare for this Labor Day weekend, I want us all to remember the fights that came before us. We didn't get weekends, child labor laws, health care, job safety or a social safety net by mistake. The middle class wasn't created by the corporate generosity. We don't have the life we live without brave IAM members and workers standing up and saying, "We deserve better."
Unfortunately, many of the things we've won – Social Security, Medicare, the Civil and Voting Rights acts, OSHA, and much more – are under constant attack. The same forces that fought every advance working people have made in this country are at it once more.
Even this March, as we celebrated the 50th anniversary of the Selma to Montgomery March that brought us the Voting Rights Act, we knew we had work to do to restore the most effective portions of the law, which conservatives on the Supreme Court gutted in 2013.
Make no mistake, the attempt to roll back the American middle class is in full swing. They want to nationalize right-to-work (for less), further marginalize the unemployed and make things tougher for those of us lucky enough to still have a job. On a global level, multi-national corporations and their political allies are trying to deal the world's workers another major hit. The Trans-Pacific Partnership, or TPP, would expedite the offshore of U.S. jobs and put our environmental and safety standards in peril.
But here's the good news: the forces to move workers forward are mobilizing faster than ever before. We are engaging young workers, progressive community groups, seniors and minorities. If we continue to organize, build alliances, and make our voices heard in state houses and on Capitol Hill, we will continue to move forward toward a better future for all of us.
From my family to yours, I wish you a safe and happy Labor Day weekend.
In solidarity,
Tom