BENEFITS

The Machinists Custom Choices Worksite Benefits Program has offered IAMAW represented employees additional financial security since 1997.
No member is denied coverage! All insurance products are guaranteed issue for members during their initial year of eligibility.
Benefits paid from these policies do not coordinate with the company provided benefits and are paid in addition to any benefits provided by the company's plans.
All policies, except disability, are fully portable with no change in benefits or cost.
Available to family members.
Individually owned – lifetime benefits.
Strike Waiver of Premium provision on all plans.
Premiums collected through payroll deduction.
IAMNPF Provides Retirement Security
The IAM National Pension Fund has provided valuable retirement benefits for members of the International Association of Machinists and Aerospace Workers and their families for over 55 years.
The benefits provided through these plans supplement Social Security and personal savings and investments to provide participants with reliable and secure sources of income at retirement.
Fast Facts about the IAMNPF, National Pension Plan
The IAM National Pension Fund is the 5th largest multiemployer pension fund in the United States.
The Fund has approximately $10.9 billion in assets.
The Fund has over 1,750 contributing employer locations.
The Fund pays pension benefits to over 90,000 retirees and beneficiaries, providing them with retirement security.
The Fund has over 100,000 active participants.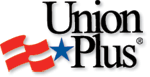 Union Plus Benefits.   Backed by the AFL-CIO, the Union Plus brand promises the value, quality service and competitive cost-savings that union members deserve. Since Union Privilege started in 1986, union members and their families have expanded and tailored Union Plus programs to serve today's working families in their lives off-the-job.
At Union Privilege, we are committed to improving the quality of life of working families through our unique products and services. We achieve our mission through:
Solidarity: Using the strength of unions and purchasing power of more than 13 million union members, we can negotiate good programs at competitive prices.
Savings & Unique Programs: Quality programs and services promote better lifestyles for working families – including scholarships, travel discounts, auto insurance, financial services, legal service, everyday savings, hardship assistance and much more.  To see a list of ALL your union's Union Plus benefits, click here.
Service: Union Plus staff support consumers and advocate your rights and the best services with Union Plus program providers. Plus our consumer tips and resources help union members make informed decisions for themselves and their families.
Read more about the Union Plus commitment to the labor movement and social responsibility here.
Short Term Disability Coverage
Administered by Guardian Life Insurance Company of America.
Ability to increase weekly benefit up to $50 per week on a guaranteed issue basis during annual enrollments if member elects coverage during their first year of eligibility.
Tax-free benefits begin after 7 days of disability and are payable for up to 26 weeks.
Benefits payable for "total" and "partial" disabilities.
Benefits paid for disabling accidents or illnesses that occur off the job..
For help filing claims first contact EBS:
Tel: 713-812-0900
Fax: 713-812-0888
Toll Free: 1-888-521-2900
Guardian's Customer Response number is:
1-800-268-2525